I'm going to start a "10min Lunchtime" Stretching and Loosening Exercise Class on Tuesday 19th July 2016 in Ulster Bank – CP Central Park, Dublin 18, Sandyford Industrial Estate, Leopardstown.

A lot of us work the whole day or the majority of it on a desk, on a computer, hunched over.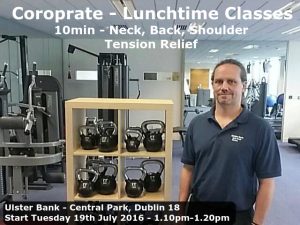 In an ideal world we do regular loosening and stretching exercises to prevent too much tension, tight necks, backs, shoulders and deteriorating posture. During these short classes we will go through various simple exercises. Once learned you might do them on your own or just rejoin the following week.
Your team leader or manager will be happy as well, as regular short breaks have shown to increase productivity in various studies. Read more about Booster Breaks here or the Oxford Journal's full Health Education Research article here "Booster Breaks in the workplace: participants' perspectives on health-promoting work breaks."
We will do specific loosening, stretching and mobilizing exercises that focus on the
(1) Neck (2) Back (3) Shoulders (4) Spine.
The initial set of classes take place
(1) Tuesday 19th July, (2) 26th July, (3) 2nd August, (4) 9th August 2016 – 1.10pm-1.20pm
in Ulster Bank – Central Park, Dublin 18 Board Room – 5th Floor.
Classes are free for all staff, gym-members and non-gym-members.
Contact Martin – Gym Manager Ulster Bank, Personal Trainer for further information or reserve your place via adding your name to the "Sign-Up Sheets" on the gym-notice board, which is to the right of the gym entrance, 5th floor.  We can't take bookings via e-mail or left messages.